Incubating a New Space for Experimentation

I half-thought about apologizing for the lack of blog posts in the last, oh, 8 months. But then I figured "screw it, just start writing again" so here we are. Easiest way to catch up is to go in reverse until I can't remember where I was and then start all over again.
We're finally getting settled in at our new building at DTLT (more on that in posts to follow) and at some point last week I started to see my schedule getting a bit lighter and felt like I could begin to explore some of the possibilities of spaces we have access to. One in particular that I've been itching to dive into is an Incubator Classroom that is located directly adjacent to DTLT and is owned and scheduled by us for demos, presentations, course experiments, and anything else we can imagine. It's a luxury to have a dedicated space like this that serves as an R&D hub when space is always at a premium for classrooms, and I feel like it's an investment as part of the new ITCC that is going to pay dividends in what we can dream up through the freedom to experiment wildly in a space all our own.
Our new building has been, how shall I say this...a work in progress...since we moved in. Behind schedule but with classes already scheduled for the opening, discussions quickly turned to "prioritizing based on need" and there are many areas of the building that are just now slowly starting to come online, with a few still quite a ways off from completion. We lobbied for our incubator classroom to be prioritized for completion at the start of classes since we had course visits that we had schedule almost immediately filling the space for the first 2-3 weeks. The contractors delivered on the basics and had a decent enough system in place for us to connect and display information to the projectors, but there is still some work to be done to get the space to a point where the design meets the flexible needs of the room.
And let's talk about the room for a minute. When you shoot for the moon in terms of possibilities the goal has to be flexibility and the ability to change anything and everything on the fly. With that in mind this is the short list of capabilities of the space that are defined in the specs (much of it functional today, some of it still requiring configuration or programming):
2 HD projectors
1 Rear LCD Confidence Monitor
2 PTZ (Pan-Tilt-Zoom) HD Cameras, one at the front and one at the rear
4 46" flatscreen displays on mobile carts with front-facing inputs
A lecturn with Mac Mini, BluRay player, document camera, and laptop inputs
A mobile podium with laptop inputs
8 floor boxes throughout the room with a variety of inputs from power and network to podium connections and 4 spots for the displays to hook into
Wired and wireless microphones and a ceiling-mounted mic array
A server rack with a variety of control equipment (Crestron) including 2 HD capture boxes for recording and streaming lectures, 5 AirMedia boxes (more on this in a bit), and a full section of the rack for auxiliary inputs of a variety of types both in and out (HDMI, XLR, Composite, SDI, etc).
16 iPad Minis with mobile charging/syncing cart
6 Raspberry Pi kits
A 5th Generation Makerbot Replicator on a mobile cart
6 Livescribe pens
18 Intersect Tables and 36 Caper Chairs all on casters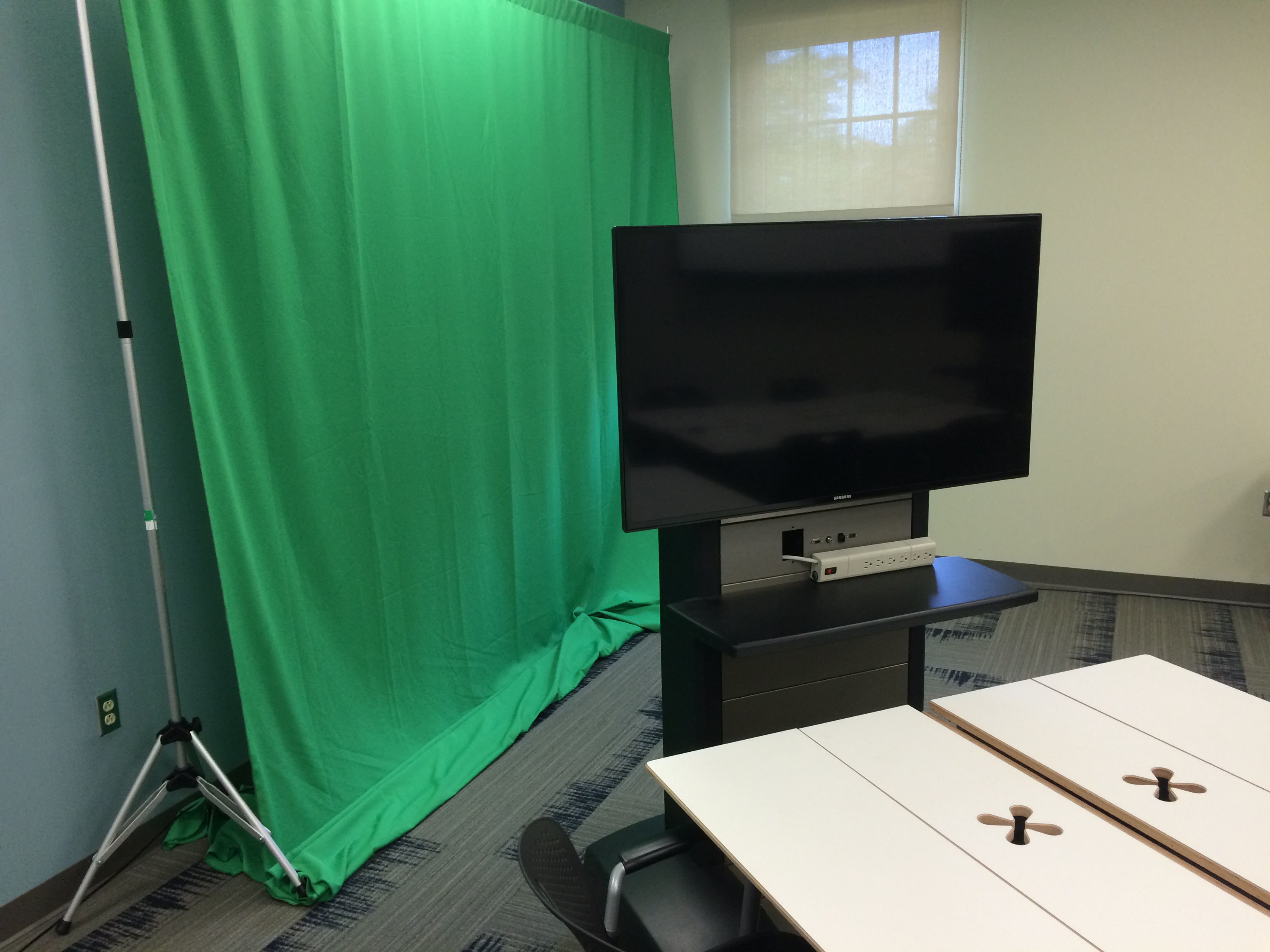 To say that the amount of technology and the capabilities of the space can at times be overwhelming and intimidating is a huge understatement. The touchpanel Crestron controller allows us to essentially send any device or input to any display in the room with a few taps. The AirMedia devices are basically Crestron's answer to Airplay by Apple but cross-platform and with support for enterprise wireless security restrictions. It works really well with the exception of their mobile apps which don't support mirroring due to inherent iOS restrictions (we're getting around that by running AirServer on the Mac Mini at the Lecturn). Here's just one example scenario taken from this week using Jim's Internet Course that he's been using as an opportunity to push the space and experiment:
Tables with one side dropped down are pushed together to face each other and then arranged in an X shape with an open center for 4 students facing each other at each branch. A mobile panel is moved to the end of each corner. Jim connects with Paul Bond via Google Hangout on the Lecturn computer and push's Paul's video fullscreen to Projector 1 and 2 of the flat panels. The other 2 panels have one AirMedia input pushed to them and sit ready with a website address and code for students to use to display their work wirelessly. Paul can see and hear everyone in the room from the PTZ cameras and microphones. Jim has the touchpanel controller connected to a floor box at one corner of the room so he no longer has to stand at the Lecturn and along with a bluetooth keyboard and mouse can sit alongside the students. At any moment Jim can take his laptop display or any of the students that are pushing to the panels and push that to Projector 2. If Paul is speaking to them Jim can have all flat panels receive that input. And the rear display in the room can display the view of the PTZ camera to make sure everyone is in the frame and move to individuals zooming in or out as need be.
It sounds practically like science fiction or the pipe dreams of a technonut but this is working today and we're now starting to see the ability to tailor experiences in the classroom to a particular need. We approached the design of this space without concrete ideas for any one particular approach, rather continuing to fall back on one word: Flexibility. If it can't be changed easily, it's not a good fit. The classroom will serve not just our immediate needs of a space for course demos but also as a safe space for faculty to try new approaches to teaching or experiment with the tools that are available in other spaces to decide whether they could work for a particular course before committing to scheduling an entire semester in a space that has that technology. But perhaps what I'm most excited about with the Incubator Classroom is what it can't do.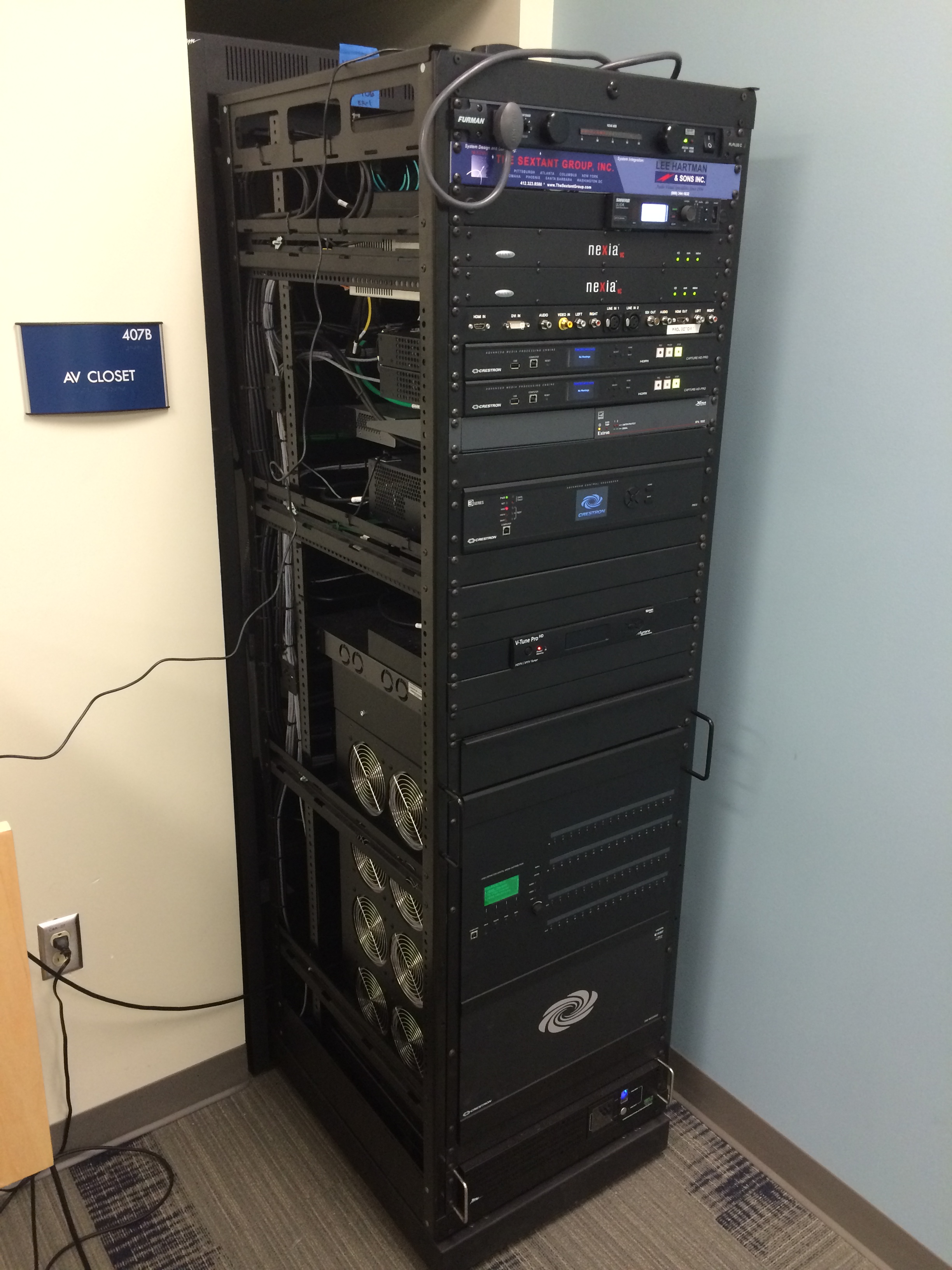 The small space for the full server rack that was defined in the floor plans apparently included no ventilation of any kind so until some sort of demolition is done to add ventilation capabilities to that area the rack has been pulled out exposing all of the internals to the classroom. Anyone would look at a situation like this and be justifiably annoyed or even upset and I'm sure my initial reaction included some choice words for inept contractors and/or architects who didn't consider this ahead of time. However my curiosity for the space combined with the guts of that rack being exposed has led me to greater experimentation by almost giving me permission to follow wire trails, unplug a device here or there to try something different, run cabling to other devices, and pour over manuals and websites to start to understand how the devices are all connected to accomplish tasks like the scenario above. It's this experimentation and research that has already led to the discovery that we could request a quick network port change and then plug the touchpanel anywhere in the room rather than have it stay at the lecturn. It's this type of research that has us believing the ability to use the capture devices to schedule automatic recording of both video and content, streaming it to a Wowza server and publishing it automatically with links being emailed to the professor is absolutely possible. It's this curiosity and dissatisfaction with the closed proprietary nature of Crestron products that has led me to find the default passwords for some of the equipment and disable them to reroute equipment. And that same curiosity has me now installing Windows in a VM so I can run some software that could potentially lead to the ability for us to design custom interfaces for the iPad that fully control every single piece of equipment in that room designed and defined by us. There's no way that Crestron or the contractors or anyone else could have envisioned our use cases (hell, even we couldn't until we started down this path). Like the ability for us to take the confidence monitor output that includes both cameras and presentation content from the recorder and run it to an adapter that feeds via Thunderbolt into the Mac Mini to serve as the webcam that user's on the other end of a call see with the ability to do picture in picture or side by side shots.
And so it's in these problems, however "first world" they may be, that we can push the boundaries of what's possible for other spaces on campus. I've clearly been bitten by the "learning spaces" bug and I truly believe that this is an avenue that DTLT has been ready to start innovating in for so long as evidenced by the crude experimentation we've done with various AV equipment in our office space for years with DTLT Today and DS106. Too often this wild experimentation is traded in favor of standards and common equipment types in classrooms that leave the places we teach to be monotone single-purpose rooms with little character and no opportunity for change. Let's start pushing against that and providing opportunities for schools to recognize the ability to take advantage of these tools in new ways, to push against the proprietary systems and offer new possibilities, to document that nature of these systems and how they can be subverted in order to create better learning spaces for our students and faculty and share widely the work that we do. DTLT has long considered itself a research and development group and we now have the maddest of mad labs to build the Frankensteins of future courses and inspire faculty and institutions to join us in a space of wild experimentation where failure is always possible and learning is alive.