App Release: Big Picture Calling Card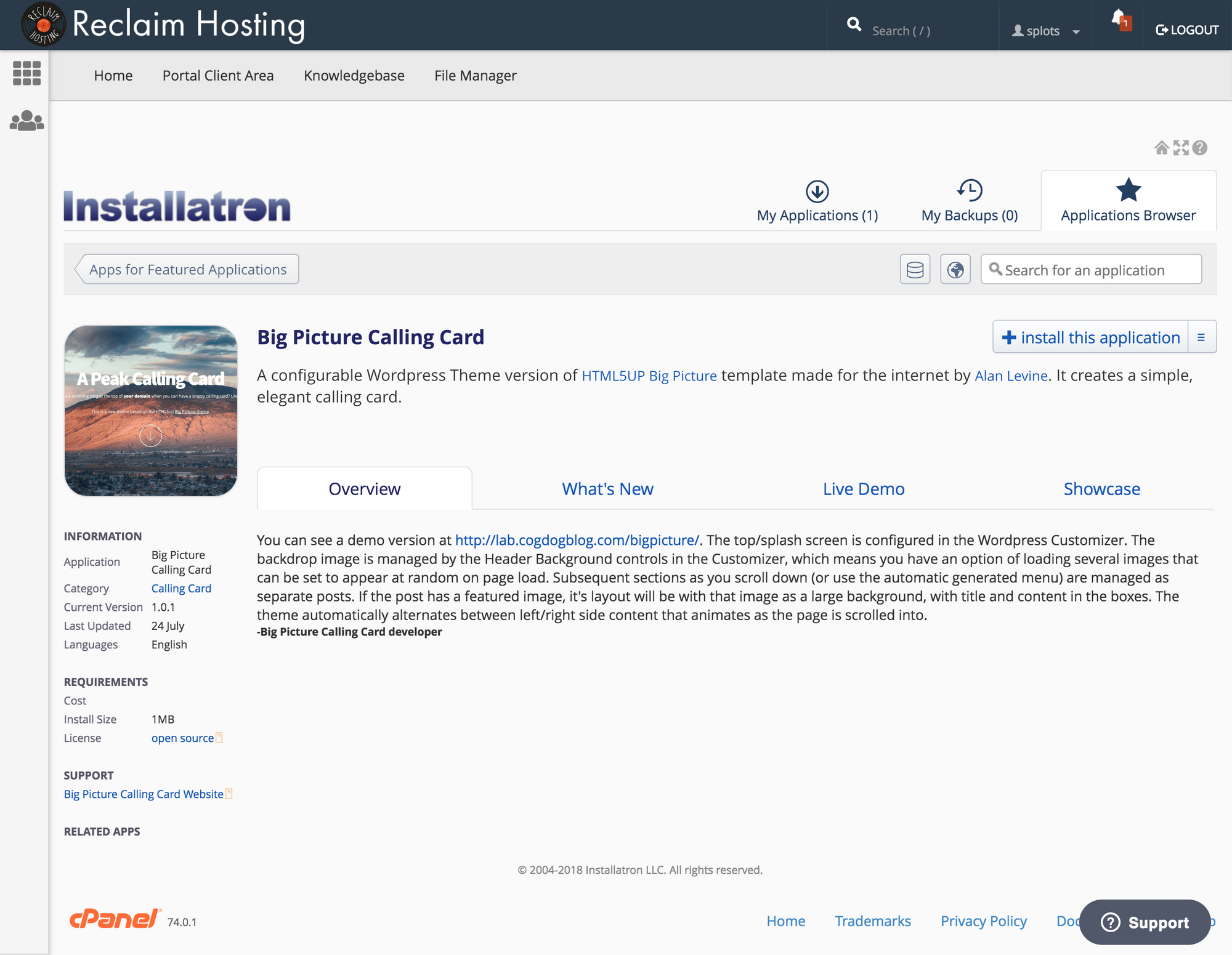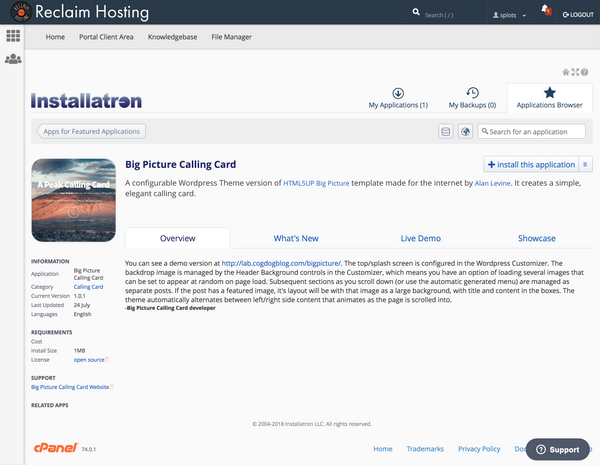 Reclaim Hosting has long been a big fan of the work that Alan Levine is doing with SPLOTs (Smallest Possible learning...object...tools? Who knows what it actually stands for). The idea, born out of the work Alan was doing with Brian Lamb's group at TRU, was to make simple tools built on top of WordPress that solved simple problems. For users in Canada it was especially important that no logins be required. A suite of tools were developed and Alan has gone on to continue maintaining them and even developed additional ones like "Calling Card" themes for personal sites and packaging up the DS106 Assignment Bank and Daily Create into standalone packages.
As Jim wrote about earlier, we had visions of bringing Alan on in a fellowship role to work with us on developing many of these tools into standalone installers in our Reclaim Hosting environment. I'm happy to announce that the first of many goes live today, the Big Picture Calling Card.
Big Picture is a theme developed by Alan and based off of an HTML5UP theme of the same name. It's a single page landing site that works well for personal sites as well as small projects where you may want all the information on a single page. Now, installing a theme isn't necessarily hard, and Alan has done a lot of work documenting both in his Github repository as well as on his blog how to get up and running. But for users brand new to WordPress even the act of installing themes, activating plugins, and configuring settings in Customizer can be a hell of a learning curve (a great learning opportunity in my opinion, but a curve nonetheless). In the same way that creating an installer for Omeka has opened the doors for many more folks to work with that software we have seen time and again how building applications for our environment can simply the amount of onboarding necessary to build out amazing stuff.
Big Picture Calling Card is rolling out to servers over the next 24 hours for all Reclaim Hosting users and available directly in Installatron. And the great news is that this is the first of many SPLOT-based applications that we will be making available including additional calling card themes as well functional applications like the TRU Writer and TRU Collector.